Gathering frontline actors in the fight against school dropout
The 8th Provincial conference for the fight against school dropout is a unique event that provides a space for mobilization, knowledge exchange, and the recognition of expertise and practices stemming from community, educational, and advocacy sectors in the fields of school perseverance and dropout prevention for disadvantaged youth in the francophone, indigenous and anglophone communities in Quebec. 
This years conference stems from a partnership between :
This now staple event in the sector generates the transmission of knowledge, tools, intervention practices, and management strategies. Through conferences and workshops grounded in real-world experience, collective discussions are held on issues common to our diverse community organizations, emphasizing collaboration and partnership in the process. 
Save the date : 
A

pril 1

5th and 16th, 2024

At Delta Hotel in Trois-Rivières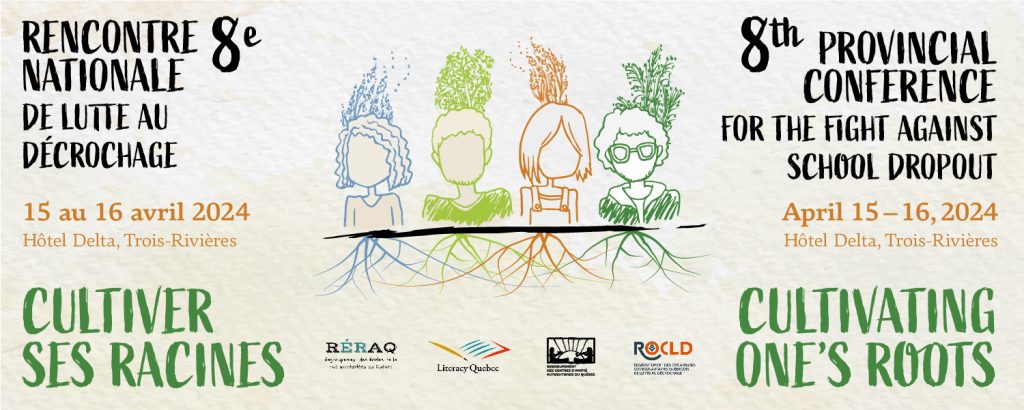 Event overview
The program showcases the valuable experiential knowledge of community organizations and the youth they engage, along with insights from the research community and inspiring partners known for their reliable practices. It offers a comprehensive menu of workshops, forums, World Café sessions, keynote addresses, and plenary sessions, along with showcase booths for organizations, integrated youth programming, and a meeting with the Minister of Education.
Who's invited ?
Intervention staff and managers from Anglophone, Francophone and Indigenous community organizations

 
Partners from institutional, public, private and organizations, as well as regional coordination tables on school perseverance and educational success. 

 

Youth aged 12 to 24 from Francophone, Indigenous and Anglophone organizations

 
Detailed programming to be announced.
With only limited capacity, don't miss registration, coming soon !